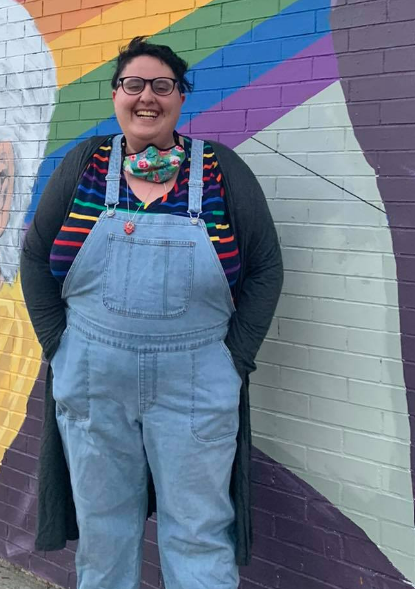 Help Rakhel get a Service Dog!
Rakhel Silverman (they/them) is a trans Disabled Jew who has dedicated their life to building a better world. They are a full time advocate for the LGBTQ+ Jewish community. They also volunteer for queer, immigration, Disability, and racial justice. Rakhel aspires to become a rabbi and create an inclusive justice-oriented Jewish community. They are so passionate about and committed to this work.
As a child abuse survivor, Rakhel's life has been severely impacted by Post Traumatic Stress Disorder. They have worked very hard for years to manage their PTSD, through medication and counseling, but they are not enough on their own. Rakhel needs a service dog to live a full and independent life. Unfortunately, service dogs cost thousands of dollars, and health insurance does not cover them.
A service dog is NOT a pet or even an Emotional Support Animal; a trained service dog is an essential part of Rakhel's treatment plan. A service dog will allow Rakhel to do things that many people take for granted, such as going out in public, taking medications, sleeping through the night, or being in a crowded or noisy place. Each day for Rakhel is a struggle with intense panic attacks, flashbacks, and trauma nightmares. Rakhel has survived so much and is incredibly resilient, but they deserve to do more than "just get by". They deserve to thrive.
Rakhel works each day to make the world a better place.  Can you help them afford the care they desperately need?
*Clarification: You may have previously seen Rakhel raise $12,000 via GoFundMe for a service dog. That was when Rakhel planned on training their own service dog from puppyhood. Since then, to ensure that Rakhel and their dog are as successful as possible, Rakhel has decided to instead be paired with a fully-trained adult service dog. After many attempts and false hopes with other agencies, Rakhel was accepted to the reputable program Diggity Dogs Service Dogs, and will be receiving their service dog in 2-3 years! Because this is a much more expensive process, Rakhel now needs to fundraise an additional $9,000 to cover the remaining costs.