Learn to Train
educational materials for aspiring trainers
A lot of people ask us how to become a dog trainer.  There is no simple answer to that question, but we believe that a great place to start is with the following collection of materials produced by Dr. Ian Dunbar.  So, we have become a Dunbar Academy affiliate and are proud to offer the following products.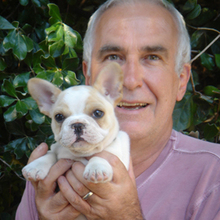 Dr. Ian Dunbar
Expert dog trainer, veterinarian, and animal behaviorist
Dr. Ian Dunbar is one of the world's most respected experts on dog training and behavior. He received his veterinary degree and a Special Honors degree in Physiology & Biochemistry from the Royal Veterinary College (London University) plus a doctorate in animal behavior from the Psychology Department at UC Berkeley, where he researched the development of social hierarchies and aggression in domestic dogs.
He has authored numerous books and DVDs about puppy/dog behavior and training, including AFTER You Get Your Puppy, How To Teach A New Dog Old Tricks and the SIRIUS® Puppy Training video.
In 1982, Dr. Dunbar designed and taught the world's very first off-leash puppy socialization and training classes — SIRIUS® Puppy Training. Subsequently, he created and developed the San Francisco SPCA's Animal Behavior Department, the American Kennel Club's Gazette "Behavior" column, which he wrote for seven years, and the K9 GAMES®, which were first held in San Francisco in 1993 and continue as annual events in Japan and France. He hosted the popular UK television series Dogs With Dunbar for five seasons and has appeared on numerous radio and television programs, including the Today Show (US) and Dash Village (Japan).
Dunbar Academy
All Access Pass
All access passes can be purchased on a subscription basis or with a one-time fee.
Click whichever purchase option you want using the buttons below!

Course description
This course gives you access to all of Dr. Ian Dunbar's online dog training resources. That's over 100 hours worth of video, plus four books and additional resources. It's all yours for $10 per month (subscription pass option). To stream the videos you will need a high quality internet connection. Much of the content (over 75 hours) has been approved for CEUs by the CCPDT, IAABC & NADOI.
You may cancel your subscription at any time.
14 Days Worth of Seminars (6 hours per day):
4-Day SIRIUS Dog Trainer Academy (21 CEUs)
3-Day Science-Based Dog Training (with Feeling) (18 CEUs)
2-Day Reliability & Games Workshop (12 CEUs)
Growl Class – A Workshop Demo for Reactive Dogs (6 CEUs)
New Concepts for the Treatment & Prevention of Dog Aggression: Biting & Fighting (6 CEUs)
Dog & Cat Behavior Problems (6 CEUs)
Simple Solutions for Common Dog Behavior Problems (6 CEUs)
Crucial Concepts in Dog Behavior & Training (6 CEUs)
4 Downloadable PDF eBooks:
How to Teach a New Dog Old Tricks (192 pages)
Dr. Dunbar's Good Little Dog Book (144 pages)
Before You Get Your Puppy (104 pages)
After You Get Your Puppy (160 pages)
13 Videos:
SIRIUS® Puppy Training Classic (90 minutes)
SIRIUS® Puppy Training Redux (40 minutes)
SIRIUS® Adult Dog Training (95 minutes)
Training Dog with Dunbar (65 minutes)
Dog Training for Children (85 minutes)
Every Picture Tells a Story (25 minutes)
Who Trains Whom (120 minutes)
Dog Aggression: Biting (90 minutes)
Fighting (90 minutes)
Training The Companion Dog (Set of four 60 minute videos): 1 Socialization & Training, 2 Behavior Problems, 3 Walking & Heeling, 4 Recalls & Stays
SIRIUS Dog Trainer Academy (4 Days)
Learn how to manage, promote and improve your dog training business | taught by Dr. Ian Dunbar

Course description
Dr. Dunbar taught the world's very first off-leash puppy socialization and training classes and he has been perfecting the SIRIUS Dog Training business model for the past 30 years. If you are a dog training professional, or you're thinking of becoming one, this is the course you simply must take.
The SIRIUS Academy is a structured and comprehensive course on how to run a successful dog training business. This course cuts to the chase and focuses on the essential information that you absolutely need to know in order to effectively teach people to train dogs as quickly, easily and enjoyably as possible.The full Academy consists of all 4 days of lecture, 6+ hours each, as well as substantial notes, including notes for the lectures, a Behavior Problem Solving Matrix, and the complete SIRIUS Syllabi for Puppy 1, Puppy 2, and Adult 1 classes, with week-by-week-schedules and minute-by-minute class notes. You will also get two free eBooks and 16 Behavior Blueprints which you can customize with your business information and distribute freely to clients and colleagues to aid in training and promotion.
Day 1: Business, Promotion, People Training & Games
Day 2: Behavior Counseling
Day 3: Adult Dog Classes & Home Training
Day 4: Puppy Classes & Home Training

"Whether you're new to dog training and wondering how to get started in the business, or you've been doing it for ages (like me) and you're looking for some fresh ideas to super-charge your business, this is the very best place to get what you need. I found myself taking detailed notes for some long-term changes, and then also jotting down little nuggets of gold to go home and immediately implement into my classes or business practices…This four-day event, and yes, you MUST attend all four days, offers the attendee who already has some hands-on experience with dogs everything they need to start up their own classes. Those of us who've already been running our own classes come away with many new ideas for classroom games and exercises for both puppies and adult dogs, PLUS a comprehensive, tested plan to measure and increase our success, and to market ourselves (which we could all use help with).I am so excited to make some changes! Thanks so much for everything!"
– Michelle Douglas, CPDT-KA, CDBC – Past President of the APDT
You will learn to manage and promote a dog training business.

You will learn to use games and quantification to train and motivate people to train their dogs.

You will learn to solve a wide variety of dog behavior problems, using the Behavior Problem Solving Matrix

You will learn how to conduct dog training classes for puppies and adult dogs.

You will learn to assess the severity of dog biting and fighting, and how to safely devise treatment and management plan.
This online course has been approved for 21 CEUs by the CCPDT, IAABC & NADOI