A Service Dog for Raina
a frog's successor
My name is

Raina and

I'm a disabled 20 year old artist from Massachusetts. I suffer from multiple disabilities that impact me greatly.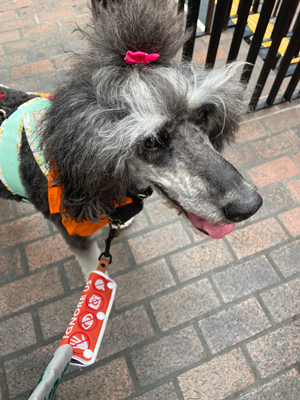 I have chronic migraines, chronic nausea/vomiting, multiple food sensitivities, Postural Orthostatic Tachycardia Syndrome, chronic joint pain/instability, chronic muscle and joint pain, heat intolerance, neuropathy and chronic nerve pain, vision problems, and ongoing symptoms as a result of Covid. Many of my symptoms are still without diagnosis. I am currently working with my medical team to figure things out and waiting to see specialists. These conditions and symptoms make life extremely challenging. My current service dog and mobility aids help relieve some of the burden.
On top of my physical illnesses, I have Complex PTSD (from childhood abuse), PTSD (from medical trauma), OCD, ADHD, Autism, and  Anxiety. 

I currently have a multipurpose Diggity Dog service dog, Bailey, also known as Bailey the Service Frog due to her funny little "frog sit". She is my best friend, assistant "artist", and the reason I'm still here. She helps me everyday to function but she's getting older and will need to be weaned into retirement in the next few years.
Bailey has helped me so much through much over the years and is going to have the best retirement. Filled with all of her favorite things; naps, going to the park, pupsicles, and all the belly rubs she could ever dream of. With her love and assistance I've been able to achieve so much more than I ever imagined. It can be bittersweet to think about a successor for her; Bailey the retired service dog (frog) passing the torch to my future service dog (toad), but I know that whoever they are, they'll be perfect.